Theaters lo okaside RRR & inko side KGF successful ga run avthu records cbreak chestunnayi. Itu OTT lo emo Gaalivaana ane web series intriguing plots, twists and turns tho positive reviews tho worth watching series ani talk nadustundi.
Zee 5 lo stream avtunna Gaalivaana ane web series lo Sai Kumar and Radhika main roles play chesaru. Oka 2 families anukokunda oka murder case lo struck daani nundi ela bayata paddaru anedi ee Gaalivaana series is all about.
This web series is already receiving positive reviews from all and here we have our own 6 reasons to watch Gaalivaana this weekend.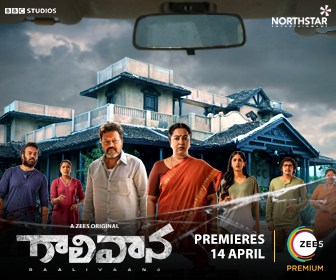 1. The Plot – Based On True Incidents
Murder Mystery? Chani poindi evaru? Evaru Chesaru? Ela Chesaru? Enduku chesaru?
Eh murder mystery jarigina ocche common questions ivve. City lo unde oka lovely couple tho ee series start avtundi…start aina 5 mins ki oka flat lo bed meedha murder ayyi untaru.
Ala start avvadame oka murder mystery & puzzle thoo start avtundi. And this series is based on true incidents and the mini series 'One Of Us' By BBC Studios.
2. The Twist & Double Twist
Oka murder motive teliyaka mundhe…inko muder jarigitundi. Again same Chani poindi evaru? Evaru Chesaru? Ela Chesaru? Enduku chesaru?
3. The Drishyam Scenario
Oka muder chuttu tirige story antha inko murder side turn avtundi. Aithe ee murder scenario manam inthaka mundu chusina Drishyam movie franchise lo laaga untundi.
Aithe Drishyam lo laaga idi accident murder ha? Planned murder ha? And ee muder nundi okka family kadu 2 families ela survive aiyyaru anedi edge of the seat experience ni istundi.
4. Every character in the story has their own problem & motive.
Okka murder mystery chese solve process lo 2 families inko case lo struck avtharu. Aithe ee 2 families lo prathi okkariki rokko problem untundi idi kakunda case investigation chese police officer, the maid in the family series lo prathi role ki oka problem untundi and that makes this story more interesting & intriguing.
5. The Evidences & Conclusion
Eh muder mystery aina solve avvali ante anduku clues and evidences kavali. Okka clue story ni marchestundi…mystery ni solve chestundi. Aithe ee series lo clues & evidence just problem ni solve cheyadam kante mundu inko konni questions ni raise chestundi.
Ika last lo first murder & second murders venaka unna motives is the climax twist comes with unexpected conclusion in the end.
6. Promising Cast, Stellar Performances Makes This Thriller A Binge Watch
Sai Kumar, Radhika lanti senior actors ee murder mystery drama ki pedda asset. Ee iddaru mother and father characters ki full justice chesaru and villatho patu Chandini Chowdhary, Krishna Chaitanya, Sharanya la performances major plus.