Badshah Live In Concert In Hyderabad – The King Of Rap Is Coming To Perform
Aditya Prateek Singh Sisodia AKA Badshah is an Indian rapper and music composer, who has released numerous hit songs throughout his career. Badshah started his career with Honey Singh in 2006 and later he split with him and started releasing his own singles. His first single "Saturday Saturday" (Indeep Bakshi ft. Badshah) went viral, and so as the Chull" (Fazilpuria ft. Badshah), "DJ Waley Babu" ft. Aastha Gill became chartbuster songs.
Badshah took the Rap, Hip-Hop space with his back-to-back singles and collaboration with Bollywood movies. Badshah worked for Bollywood movies and delivered one of the biggest hits like Kala Chashma and Kar Gayi Chull.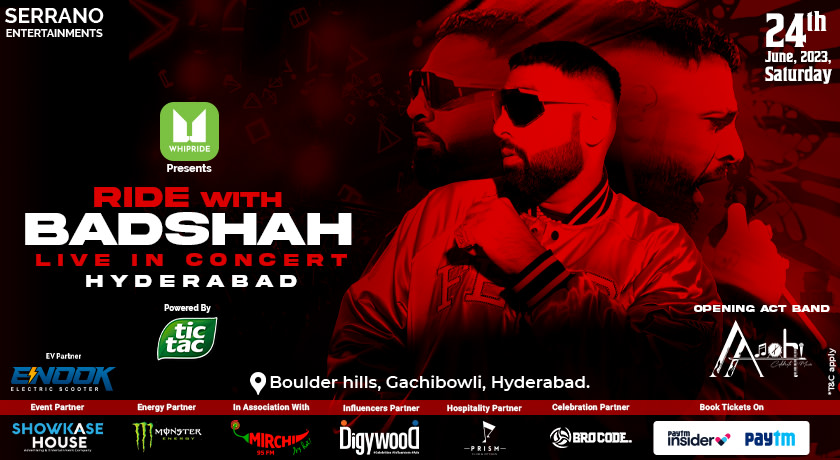 Now the RAP sensation is coming to Hyderabad to take us on a ride with his chartbuster songs in a live concert. With 'The Paagal Tour' Badshah is coming to Hyderabad to perform his all-time hits and take us on the ride.
Concert Is Happening On June 24th in Boulder Hills Of Gachibowli. Hurry Up and Do book your tickets now by following the link below…
Book Your Tickets Here For Badshah Concert In Hyderabad
Use Code Tamada10 To Get Discount
"DJ Waley Babu" ft. Aastha Gill
"Mercy"
"Kar Gayi Chull" ft. Fazilpuria
"Abhi Toh Party Shuru Hui Hai" ft. Aastha Gill
"Ladki Beautiful Kar Gayi Chull" ft. Fazilpuria
"Tareefan" ft. Qaran
Book Your Tickets Here For Badshah Concert In Hyderabad
Use Code Tamada10 To Get Discount
"Proper Patola" ft. Diljit Dosanjh
"Kala Chashma" ft. Amar Arshi and Neha Kakkar
"Buzz" ft. Aastha Gill
"She Move It Like"
https://www.youtube.com/watch?v=Ci0WbaUH3no&pp=ygUYc2hlIG1vdmUgaXQgbGlrZSBiYWRzaGFo
"Garmi" ft. Nora Fatehi
"Pagal"
"Paani Paani" ft. Jacqueline Fernandez
"Tera Yaar Hoon Main" ft. Arijit Singh
Aaj Raat Ka Scene
Book Your Tickets Here For Badshah Concert In Hyderabad
Use Code Tamada10 To Get Discount